Every diagram I found with the AFM has 7 pins, mine has 5. I'm trying to wire in the IAT. Anyone have a 5-pin diagram? I'm a little hesitant about going with the wire color codes alone. I noticed a few different colors when repinning my ECU harness...

Thx in advance!
1992 Toyota Celica GT-Four CS (#4025)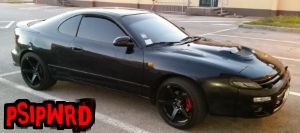 Club Member
Posts: 224
Joined: Sat Feb 18, 2012 10:02 am
Location: Germany
---
Please if you found that could you send me
thanks in advance
Newbie
Posts: 8
Joined: Mon Oct 01, 2007 10:59 pm
Location: Valencia Venezuela
---
Homologation wiring uses the same color for the IAT wire. The extra 3 wires on the regular AFM are superfluous.
Check out any gen II diagram and look for the IAT wire, that's the color you want.

To clarify; regular AFM only has 4 wires going to it. Homologation AFM has 5 wires. Both AFMs use the same color wires, in the same spots. The homologation wiring just adds a second ground wire that is spliced into the original ground wire about 8 inches from the AFM.
GTFour God
Posts: 4681
Joined: Mon Aug 09, 2004 9:04 am
Location: Ma
---
thanks a lot

Best regards
Newbie
Posts: 8
Joined: Mon Oct 01, 2007 10:59 pm
Location: Valencia Venezuela
---
---
Who is online
Users browsing this forum: No registered users and 1 guest