MAKE: Toyota
MODEL: Celica
TRIM: All Trac (ST-185)
YEAR: 1990
MILEAGE (please specify km/miles):
VIN: Will have to dig it up....will post here soon.
TITLE (clear, lienholder, salvage, etc): Clear but not my name on it, I never converted it over, I have it on hand. I consider this a minor detail that we can get straight without issue.
ENGINE: JDM 3SGTE Swap that was installed but never ran
COLOR: White(ish)
OWNER: 1ST 2ND and so on. : and so on...I am at least the 3rd or 4th owner
DESCRIPTION: This is a project car. It needs to be resurrected. There are not many of these left out there. I bought it maybe 4 years ago with plans to restore it and make it cool. I never have or will get around to it. I just have too many other projects and hobbies. Too numerous to list here but if you are interested then we can discuss those details. I bought it from a guy who had bought it with his buddy, they put a JDM 2nd gen 3SGTE into it but they never got it to run. From the looks of it they had no idea what they were doing. I never did get around to working on it at all so I do not know any more than that regarding the engine. It has some hideous fiber body kit on it, I was going to remove it right away so I ripped off the section that is missing to look at possible rust etc...it looks pretty good under there actually. It had been painted yellow over the original red. They had told me that they had planned to convert it to FWD ( I don't know why for sure but I believe the rear diff had gone out. There is no transmission in it but I do have an AWD transmission left over from my previous swap that I will throw in for free. There is also no drive train components to speak of. For clarity..The front and rear axles are not present, the driveshaft is not present and the rear diff and subframe are not present. I had planned to put a whole ST-205 set in there but again, never got around to it. The pictures verify that it is an St185 AllTrac car. There is also an extra turbo in the hatch area, I do not know the status of it, it was in a box when I picked it up. The front hubs/knuckles are currently removed but I can put them back on...the bearings are shot. Does not come with the Scion TC rims, I have some other ones laying around that I will put on there so it can be moved.
AFTER MARKET ACCESORIES: Nothing really, there is BOV attached to some of the previously attempted FMIC piping. Chicken not included.
REASON FOR SELLING. I just have too many projects, one of which is another 5th gen but I am also a SCUBA instructor, a homebrewer, a beekeper, work full time, work part time, work on my own, my wife's, and my Daughter's Jeeps which require constant work because we actually go offroad with them.
ASKING PRICE/OBO: $800
LOCATION: Hillsborough, NC I have a car dolly and could deliver it if needed and you cover gas money. I would be willing to drive as far East/South as Wilmington, as far west as Winston Salem, North as far as Richmond, VA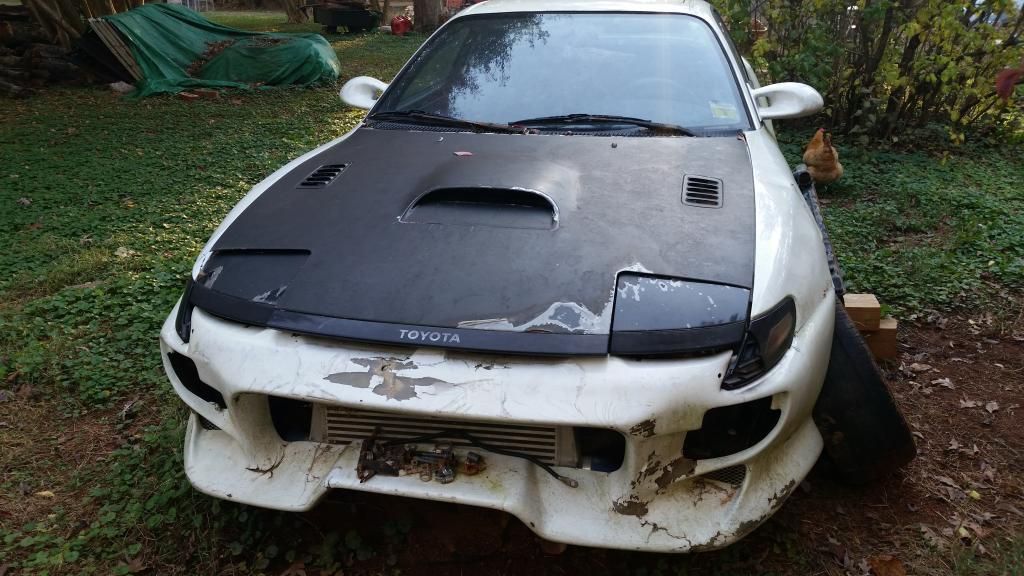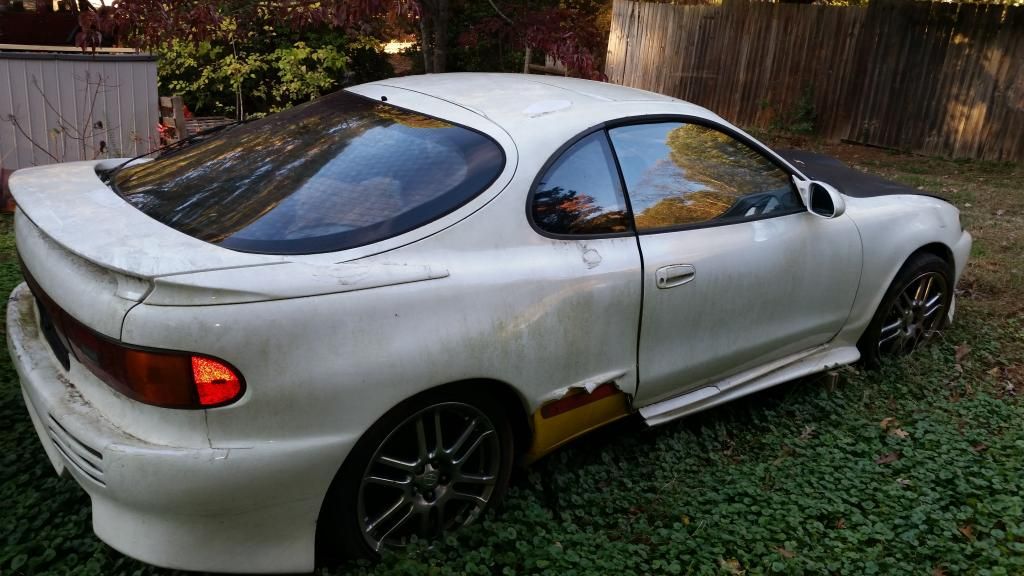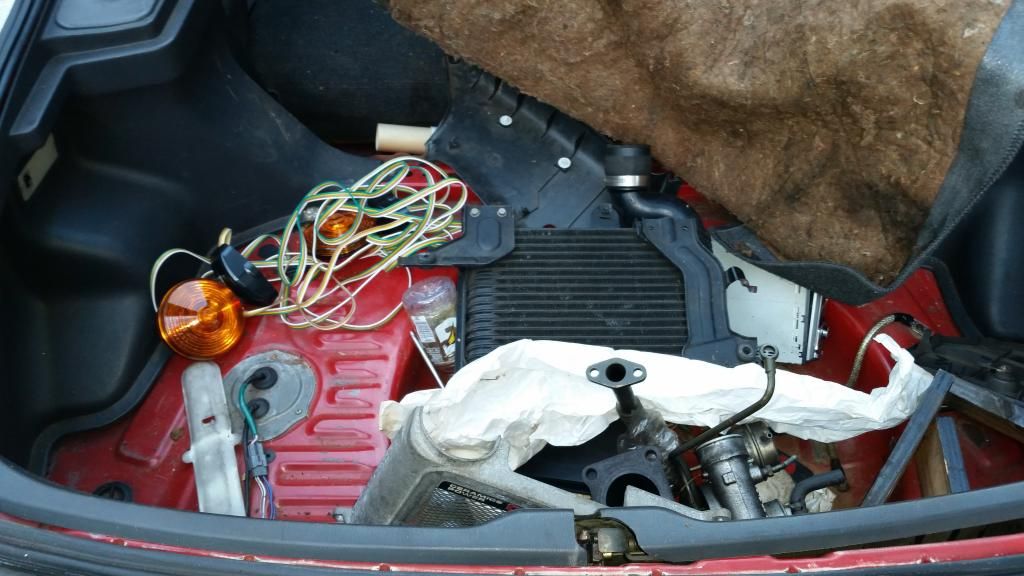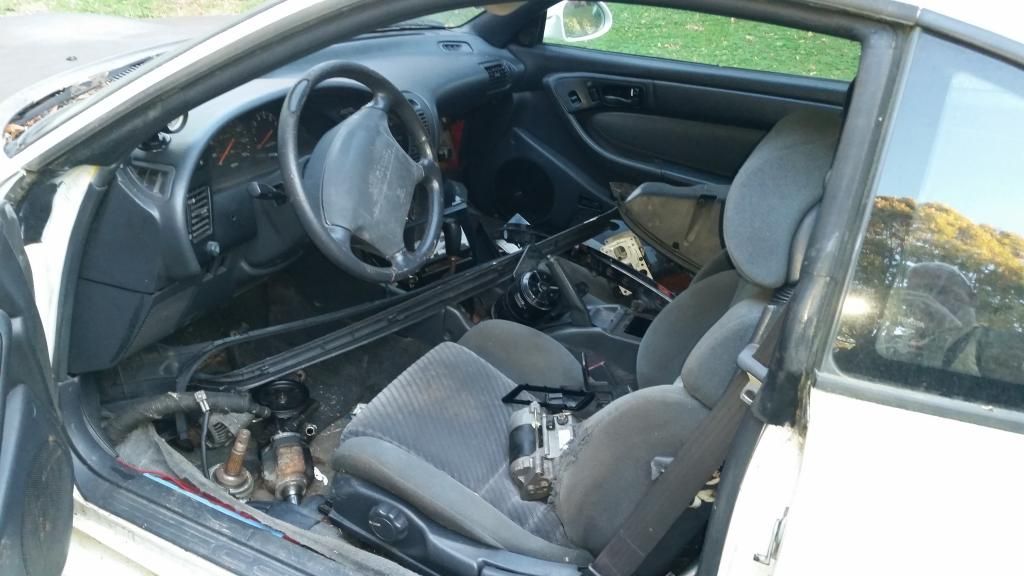 I think that is everything. Feel free to ask questions and make offers. PM me here or on Celicatech.com, I use the same Screen name over there. I(my wife) mostly want this car out of the yard.
Club Member
Posts: 126
Joined: Fri Oct 12, 2007 11:20 am
Location: NC
---
I want the fenders.hoods cool too.
6197044999
Club Member
Posts: 109
Images: 0
Joined: Sat Jan 16, 2016 12:23 pm
---
The turbo in your trunk looks to be off a 1stGen 3sgte. Good luck with sale.
Club Member
Posts: 127
Joined: Mon Jun 17, 2013 3:50 pm
Location: Buckeye, AZ
---
Anything sells.and,these cars are rare.my shell is still missing a lot.
Club Member
Posts: 109
Images: 0
Joined: Sat Jan 16, 2016 12:23 pm
---
I am the original poster that listed it for sale. ...I have been out of the car hobby for a while. I left this car out behind my shed for the last year or so and now I am moving so I have to get rid of it... Make an offer

Chris
pm or email to

cmrehderATgmail.com
Club Member
Posts: 126
Joined: Fri Oct 12, 2007 11:20 am
Location: NC
---
Newbie
Posts: 5
Joined: Mon Dec 18, 2017 3:30 pm
---
---
Return to Global For Sale/Wanted
Who is online
Users browsing this forum: No registered users and 0 guests